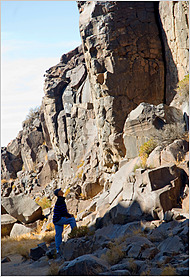 David S.Whitley, an important archaeologist, believes that the Coso Petroglyphs to be one of the most important rock art sites on earth. An interesting article on this rock art site.
He estimated that there may be as many as 100,000 images carved into the dark volcanic canyons above the China Lake basin, some as old as 12,000 to 16,000 years, others as recent as the mid-20th century.
David Whiley, un importante archeologo, crede che il sito Coso Petroglyphs sia uno dei più importanti siti di arte rupesre del mondo. Un interessante articolo del New York Times.
Stima che potrebbero essere presenti circa 100.000 immagini scolpite nei canyon vulcanici al di sopra del bacino di China Late, alcune vecchie da 12.000 a 16.000 anni, altri più recenti che risalgono alla metà del 20° secolo.
EMS5SQPAWHYT