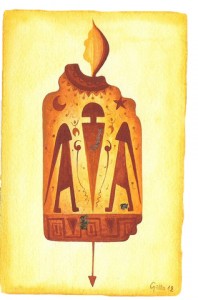 Maddalena Gatta
La sua pittura sviluppa un astrattismo lirico, che partendo da Kandinsky la porta ad attraversare l'universo pittorico dei maestri del novecento. La tecnica utilizzata, l'acquerello le permette una maggiore immediatezza nella raffigurazione dell'immagine attraverso il colore, permeato da una notevole profondità di sentimenti.    (Maria Teresa Lepenne, storica dell'arte presso la Soprintendenza per i beni culturali della Puglia).
www.maddalenagatta.com
Giuseppe Lorenzi
was born in Florence in 1954.
After diploma at the Institute of Art in Florence, he obtained a degree in design at the ISIA.
In the early eighties together with opening his design studio, ADR in Bologna, he elaborated his etching techniques and in 1985 he held his first personal exhibition.
At the beginning of the 1990's he dedicated himself to abstractionism which then evolved into the carving, of small stones. With time the stones chosen began to take on larger shapes and dimensions until assuming the aspect of a large menhir in travertine of 8000kg which was carved in 2003 and placed near the famous Saturnia spa's.
Michela Galeazzi
Nata ad Ancona il 07/09/1973, consegue diploma di scuola superiore, si occupa di arte dall'anno 1998, eseguendo studi e ricerche da autodidatta, sperimentando materiali e discipline diverse.
Inizia la sua carriera come ceramista. Per anni studia e approfondisce le tecniche della maiolica rinascimentale, affiancata da un noto maestro di maiolica istoriata pesarese. Lavora su commissione con molte amministrazioni pubbliche, ed aziende private.
Dal 2003 decide di espandere la sua conoscenza, affina le sue capacità di disegno e di pittura. […]
– The interview of Michela Galeazzi
– The official website