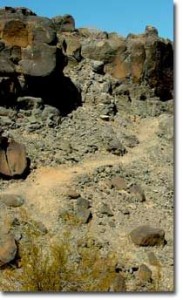 The Sears Point area contains ev idence that suggests an unusual association between Hohokam and Patayan features, which cannot be seen elsewhere. Sears Point is hypothesized to have been a boundary area between these cultures where the two groups maintained contact with each other.
The the damage, according Arizona Bureau of Land Management rangers, includes rolled boulders and fractured petroglyphs.
Authorities are offering up to a $1,500 reward for information leading to the identification and prosecution of those responsible for vandalism.